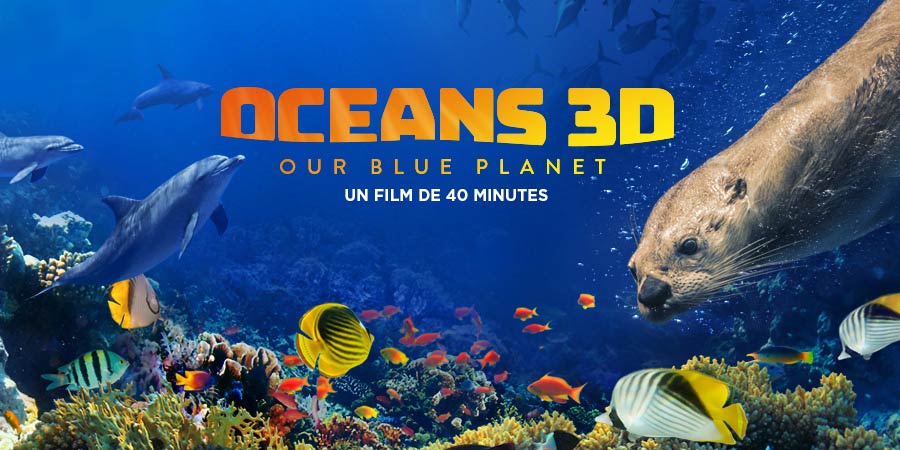 Film in the auditorium3D
New 40-minute 3D film.
The City of the Ocean is proud to show you Ocean 3D, the blue planet, a new 3D film with breathtaking images.
It is a true odyssey across the largest and the less explored habitat on Earth. The movie explores various areas of the oceans. From littoral waters to abyssal depths, through the poles and coral reefs, the film reveals new stories of the most surprising creatures of the oceans.
In this movie, dolphins dive happily across the waves, fishes from coral reefs use ingenious methods to eat, the clever octopus protects himself thanks to a special method, the sea otter babies snuggle up again their mom, the mobula rays offer a majestic ballet… You will also see sea turtles, whales, polar bears and walrus.
Even if you are a child, an adult, a novice, or an animal report lover, you will enjoy it.
Almost four years across 39 countries were required to realize this odyssey at the heart of the oceans. The result is amazing ! You would be willing to dive at the heart of the blue planet to see the inhabitants.
In Ocean 3D, the blue planet, animals are the main characters. They are heroes, and cameras got closer and closer, to record not only the movements, but also the emotions. The latest innovations in technology and snorkelling permitted to record new rushes, going deeper and deeper, for a longer time and as discreetly as possible.
Based on scientific data, Ocean 3D, the blue planet reveals the daily life of sea animals. Where danger is just around the corner, sea life shows exactly the meaning of food chain. We face a real odyssey, made of fights, releases, joy and poetic moments.