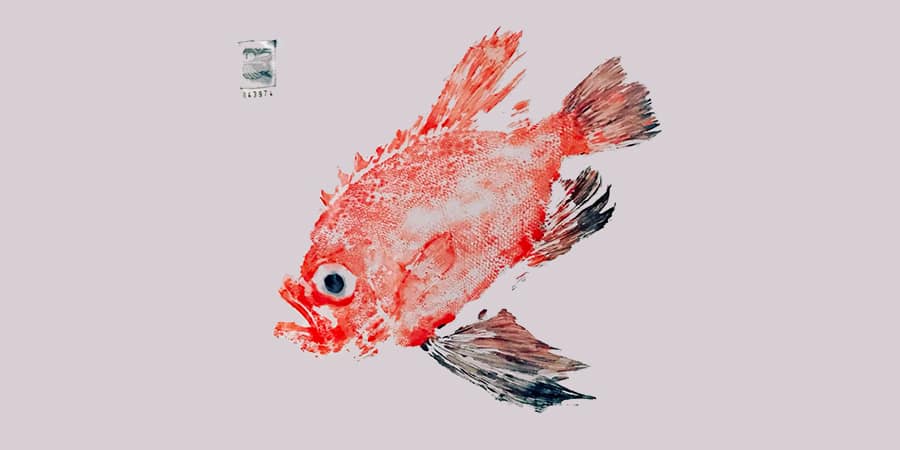 Now
During her early years, Delphine Simonet questioned the notion of temporality in various ways through her photographic research.
Ten years ago, she chose painting to reinterpret her own photographs. The encounter with the material allows her to question the aspect of the living, its evanescent character.
Through this new series, the artist goes beyond her pictorial and photographic work by questioning time and the living through the gyotaku technique.
She explored this technique and finally captured the finest details by reproducing the animal in acrylic on satin.
The resulting spectrum, like a fingerprint, faithfully reproduces its biological uniqueness.
Far from the artist's gesture and subjectivity, it is the plasticity of the specimen that is put at the level of a work of art. Delphine Simonet thus plays with the temporal dimension: by inventing the fossils of tomorrow, she questions the future of today's creatures. Like the archives of a naturalist, the satin pieces are presented between two sheets of glass.
Delphine thus underlines her intention: she wants to protect them from any external influence. The creatures seem to be suspended in their case, as if they were floating in weightlessness in an element isolated from the present.
Originally from Biarritz, Delphine Simonet now lives in Reunion Island. The specimens used come from small traditional fisheries or are provided by organizations for the protection and conservation of the environment.
Gyotaku
In Japanese, "gyo" means freshwater fish and "taku" means footprint.
Logically, gyotaku is the art of reproducing a fish print on paper or fabric.
Originally, this technique was created by fishermen to immortalize their catches and have a proof of their fishing to show to their colleagues, at a time when photography was still in its infancy. In fact, the first recorded examples date back to the Edo era and date back to 1862.
The original technique was to cover the fish with India ink and apply Japanese paper, then rub it with the hand before peeling it off to develop the print.
Today there are more sophisticated techniques, such as printing on other materials like silk or adding colors.
The use of high quality ink and an extremely thin substrate is necessary to bring out all the details with precision.
This art is still practiced in Japan and elsewhere.