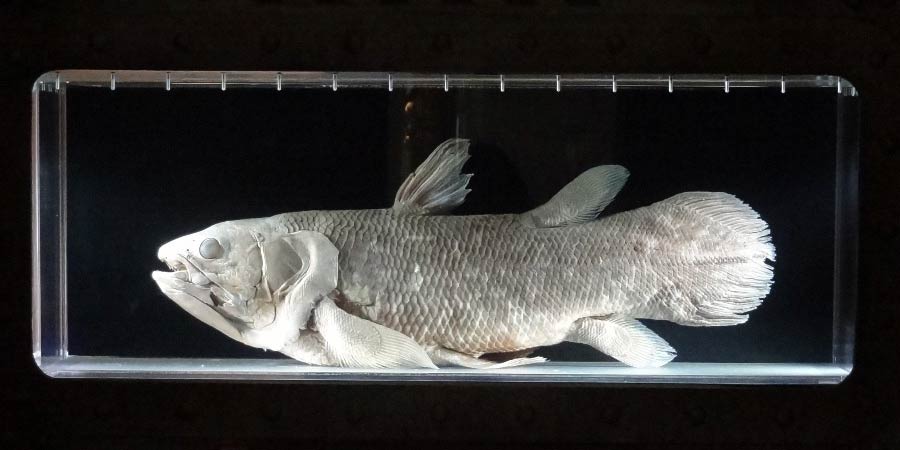 Have you ever seen a coelacanth ? A what ? A coelacanth…
The coelacanth is a fish with an extraordinary story to tell. Until 1938, the scientific community was only aware of the existence of this creature in its fossil form.
It was thought to have disappeared around 70 million years ago during the massive ecological catastrophe that was responsible for the extinction of dinosaurs and a large part of the marine fauna…
The specimen displayed at the City of the Ocean was fished off the coast of the Comoros Islands and presented to the town of Biarritz in 1983 by the President of the Comoros. This coelacanth is 118 cm long and weighs about 68 kg. Since then, specimens had been caught and studied, but one had never been seen alive.
Until, that is, a great event took place in 2010 ! The photographer and biologist, Laurent Ballesta, during one of his many dives made to further his research on the coelacanth, came across this extraordinary fish swimming at a depth of 100 m in the Indian Ocean.
"Lady Luck is smiling at us today ! I can see it ! The Coelacanth… (…) I'm swimming towards a living dinosaur. It's an overwhelming moment; I've been waiting for this since, since… since forever !"
The words expressed by Laurent Ballesta convey the palpable intensity of this exceptional encounter.
In another event, the City of the Ocean presents an extract from this video of the coelacanth filmed by Lauren Ballesta. So ! Would you like to say that you have seen a coelacanth, a close acquaintance of the dinosaurs ? Well, wait no longer, head to the City of the Ocean !